A History of the Roger Smith's Lab Gallery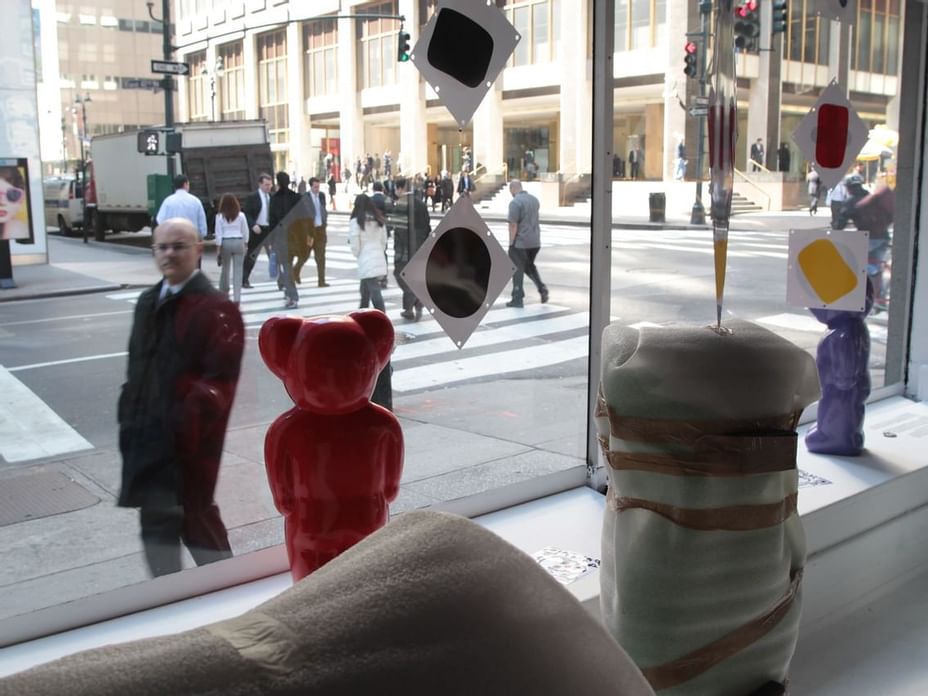 The Roger Smith Hotel is steeped in decades of art history and performances, and the mid-aughts are no exception. The Lab Gallery, now a dynamic pop-up shop, once featured live art performances viewable to passersby along the bustling Lexington Avenue. The Lab's programming was designed to confront modern relationships between art and audience, evoking interactions between high energy, respective exhibitions and nearly 25,000 daily passersby. Here are three of the most interesting installations we've hosted at the erstwhile Lab Gallery.
Homage to a Hero by Kata Mejia
After the death of her youngest brother, who was kidnapped and murdered by Colombia's FARC guerrillas in 2006, artist Kata Mejía started a series of performance art installations that explored life, death and sorrow.
'Homage to a Hero' was the third performance of three and commemorates the one-year anniversary of the artist's youngest brother being murdered. It is a performance installation to pay homage to his life which he sacrificed to save his loved ones. The final two-day performance recreates a farewell ritual. On the anniversary of her murdered brother's birthday that would have been his 22nd, the artist symbolically guides her hero brother to the eternal realm – tragic, frightening and cathartic all at the same time.
SOUNDSTORM was a kinetic installation by Daniel Rothbart and Maia Anthea Marinelli, whose work has been featured in Sculpture by the Sea, Arctic Circle Residency, SXSW, LACMA and the Museum of Contemporary Art in Genoa, Italy. This work sought to create an inextricable dialogue between art and nature, using sculptural elements that moved according to the barometric pressure in New York City at any given time. Isobars were represented by a shifting motorized web of pulleys and ropes that enveloped the gallery and produced metallic noise. These sounds were piped outside the gallery to complete the tableau vivant.
Grimanesa Amorós is a renowned interdisciplinary Peruvian-American artist who focuses on large-scale light sculpture installations. After years of showing in gallery spaces, public art had an accessibility and openness that always intrigued her.
Amorós' earliest public piece was 'La Incubadora' displayed at the Lab Gallery as an installation incorporating paper-made sculpture and atmospheric lighting. These lighting installations led her to the bubble sculptures she would later be known for. She developed her idea by using LEDs, Lexan and silkscreens to create translucent spheres inspired by the natural elegance of sea foam and totora reeds.