Amazing Artwork Hiding In Plain Sight Near Midtown NYC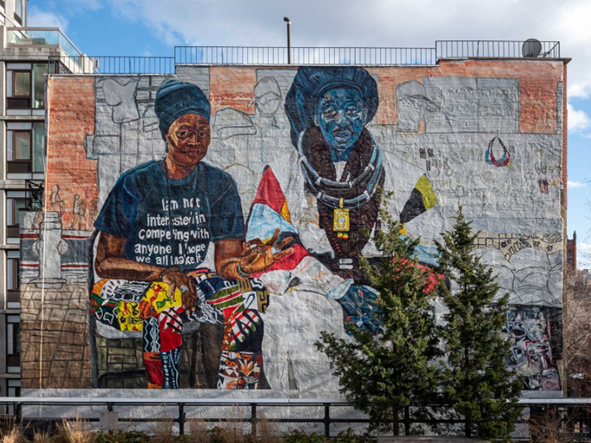 New York City is well-known as the mecca of galleries, art shows and culture. Yet amongst the vibrant bustle and artistic energy of the city streets, few take a 'New York Minute' to pause and notice the intricate public artwork nestled among the skyscrapers. Here are just a few of the eclectic pieces hidden right in the heart of NYC waiting for your admiration.
Just a block away from the Roger Smith Hotel on 48th Street is an explosive colorful mural that's part of the Street Art for Mankind's series celebrating the centennial of the International Labour Organization (ILO), the oldest United Nations agency. Between East 42nd Street and East 48th Street, these murals depict the social justice and fair employment challenges we are facing in terms of green jobs, gender equality at work, eradication of child and forced labor, youth employment, and the future of work.
Next, at the 'Crossroads of the World', renowned musician/artist Max Neuhaus' subtle installation is easy to miss but, once you discover it, you'll have found a hidden gem. Stand on the grates in the little pedestrian triangle on Broadway between 45th and 46th Streets, and you'll hear harmonic but unidentifiable sounds emanating from below. Neuhaus created the site-specific installation in 1977 – inspired by Times Square as it was then – and it is now a permanent installation thanks to the Dia Foundation.
Third of note, the highline is a famous one-and-a-half-mile-long elevated park where you can not only take in panoramic views of Manhattan but also spot a slew of striking street art. Renowned artists worldwide have placed their creations on the walls of buildings located near the walkway. The latest is Jordan Casteel's The Baayfalls which beautifully encapsulates the tumultuous year of 2020 and our recovery.
At the Roger Smith, we champion the city's rich artistry, treating both our lobby and first-floor Lily's Bar as rotating gallery spaces showcasing the work of local artists. We treat the entire building, and each of our rooms, as a work of art; unique, carefully crafted and memorable.
(Photo courtesy of The Highline)