Creating Looks with Others' Memories: An Interview with Ziarra, Artist-in-Residence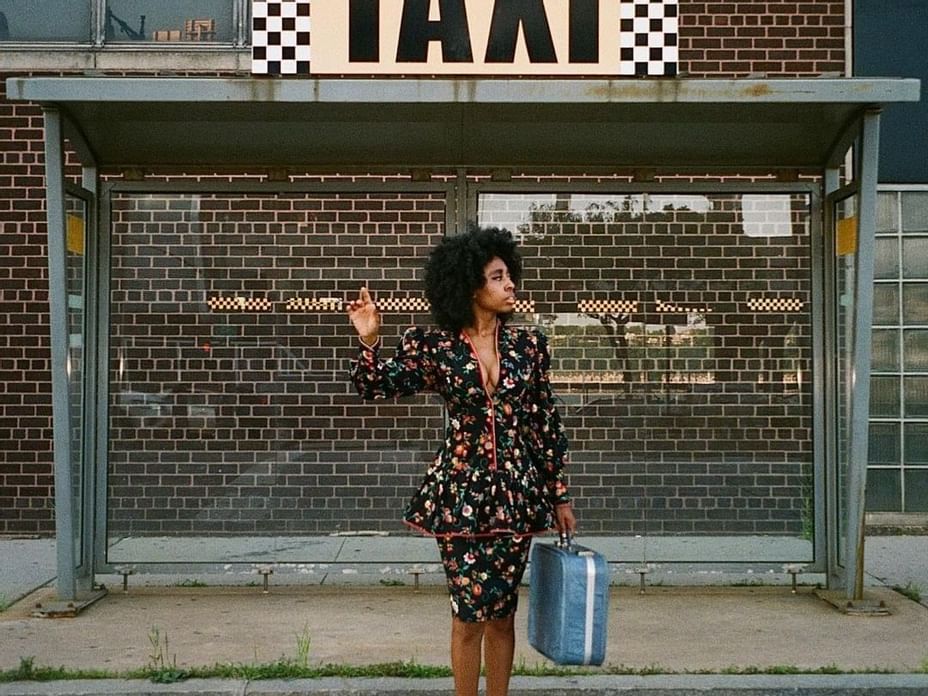 Ziarra, like most singers, tells a story. Yet as a lifelong writer and visual artist – who is also opening a thrift boutique – her stories portray NYC in a way like none other.
The NYC native, who describes her songs as moody and genre-defying, is expressing the beautiful narrative (both real and fictional) to help craft a new part of the city's history. Read on to learn about Ziarra's unique creative process, her thrift shop that tells stories and more.
As a songwriter and singer, what's your creative process like?
I would say my music is moody. It fluctuates pretty often and there isn't a specific genre that I write. It morphs, often within one song, to express what I'm feeling. I would put myself in a colorful category, with layers, texture and emotion painting a musical portrait.
I've been writing since I was a young child. The writing got shorter and shorter, and my notebooks eventually evolved into musical poetry when I was in fourth grade. I only write when I'm inspired, and that can happen anywhere in the city. Even stopping on the sidewalk and glancing at the amazing architecture or seeing vibrant passersby can stimulate that inspiration.
You'll often catch me in the middle of the sidewalk thinking, because I create narratives about the history and what could happen in this wonderful city. It's not my choice; it will hit me like a lightning bolt, and I'll project it to the world. It feels like none of the words are really mine.
And the musicians that accompany my singing are all my friends, so I don't really tell them what to do. I allow them to be themselves and to express their freedom. It's palpable when you hear us play; everyone that performs with me wants to evolve the music, loves the music and has their own take. I hope the audience does the same because we all interpret this city and the emotions it evokes differently.
You have a new single, "Make me Feel," that you're debuting at the Roger Smith Penthouse. What's the song about?
I actually started writing this song a long time ago – in 2013 – and it's been a draft waiting to reveal itself. I thought 'this is so good' and felt that I needed to let it sit until I knew what to do with it. It was the gem in my world that I needed to let sit and respect. Once I moved to the Roger Smith, it all came full circle then I had an epiphany that this is the time. Now it perfectly encapsulates what I am feeling…and it feels good!
It's a moody song, but I think being moody is actually good thing. Our mood fluctuates constantly throughout the day, and this song is a reflection of that. It's why I change outfits four times a day; the mood is our armor, and we need to protect and project it.
What can we expect when we hear you perform at your show?
The entire show's goal is for people to feel freedom. I have already done the thinking; when you show up, you'll heighten your emotions and reset yourself. The goal is to make you understand that you don't need anything else. The goal is just 'to be' – to live in the moment.
On top of all that, you're also opening a thrift shop called City of Canvas. What is it like and what inspired you to open it?
The City of Canvas has been a longtime project of mine, with the goal of documenting the history of the city and sustaining it through visual art. Opening the pop-up store at the Roger Smith is exciting because it allows me to fulfil that mission of sustainability. The goal is to give the clothing a proper home, a good place to live and an outlet to continue to create memories.
You're buying other people's memories; you're buying what someone laughed in, what someone cried in and you're preserving history. Sticking to cultural sustainability is incredibly important to me, and with the thrift store pop up you're keeping the culture alive and thriving.
The hotel marquee says, 'Roger Smith is an idea'. What does that idea mean to you?
Change. It is where that past and future meet each other. Coming from 2020 and us dealing with the pandemic with all its wild transitions, now we're transitioning into what we foresee with all that change. The Roger Smith Hotel is right in the middle of that journey. Every time I step into the lobby, it feels like I'm stepping into the future.
It's a big responsibility and a wild feeling; there's no going back. You worked super hard to get here and become an artist-in-residence – for all of these years, cultivating your curiosity. Now, you've been passed the torch to let others see. Utilizing this amazing space and harnessing the teamwork of fellow artists-in-residence is what makes the Roger Smith feel like change. And it's an opportunity that we will make sure to last. We are truly a part of New York City history.