Five Fantastic Midtown East Eateries with Big Deals for NYC's Restaurant Week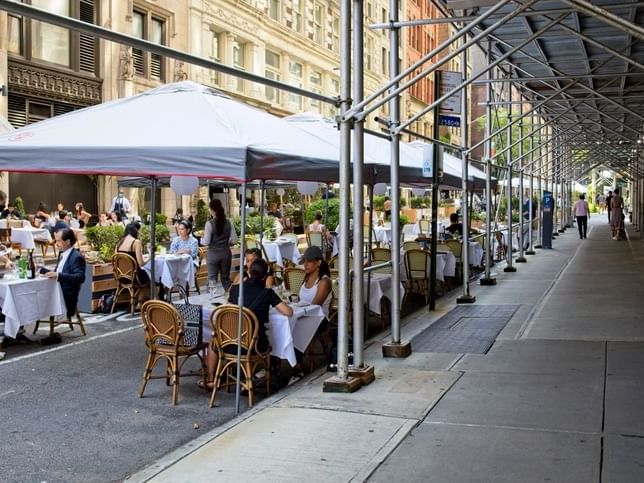 NYC's Restaurant Week is already in full gear and has been extended until August 22nd. Eat your heart out (and not your wallet) with lunch and dinner options for $21 or $39, plus Signature Dining Experiences for $125 at some of the city's best eateries, with indoor dining, outdoor dining or takeout options. Here are five we recommend that are close to the Roger Smith.
953 2nd Avenue
Deeply rooted in traditional Spanish recipes, this restaurant offers a wide assortment of tapas along with authentic paella (the place is named after the delicious, caramelized crust that forms at the bottom of the dish) and a vast selection of Spanish wine or beer pairings.
52 East 41st Street
Benjamin Steakhouse stands strong among the best NY steakhouse institutions; offering Old World ambiance (chandeliers and a roaring fireplace), exceptional service and an opulent steak selection prepared by Peter Luger alumni chefs Benjamin Prelvukaj and Arturo McLeod.
633 3rd Avenue
Docks has been acclaimed for its fresh seafood for a quarter of a century. Enjoy its vast selection – from lobster to seasonal items like Maryland Soft Shell Crabs – served raw or sushi-style. Be sure to pair it with their martinis to make it a night to (slightly) remember.
5 East 54th Street
Feast on traditional-yet-upscale Greek food, including unique appetizers like razor clam ceviche and tuna tartare, along with hearty mains like steak and squid ink pasta, all prepared by native Greek chef Oannis Chatiris.
210 East 44th Street
Sushi Tsushima is famed for its omakase meals that highlight the local produce and the intricacy of Japanese cuisine. Despite the sushi namesake, this restaurant also serves meat dishes, ramen and more, all with Japanese presentation minimalism and delicacy. The elegant setting, including tatami alcoves, and eclectic sake selection make this a must-visit.