Five Hidden Dinner Gems in Midtown East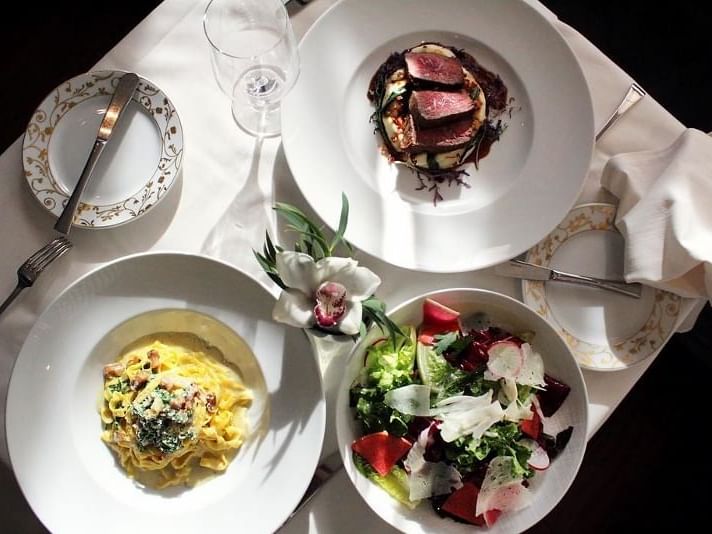 As the nation's culinary capital roars back to life, there's a plethora of fine-dining options right around the corner. With warm weather and expanded outdoor dining, it's a perfect time to savor dinner at the world's finest restaurants without long waits.
Behind a discreet narrow storefront and gray awning is some of the finest traditional Northern Italian cuisine. The pleasant outdoor garden combined with home-made pasta options feels like you've left the city for a quaint Piedmontese village.
214 East 49th St.
Daily | 5pm to 11pm
This izakaya is quite literally a hidden gem, located on the lower level of an office building. With over 200 sakes, daily sashimi selections and A5 Miyazaki, the hunt is well worth it. Currently, their menu is limited to a reasonably priced, five-course prix fixe menu with sake pairings.
211 East 43rd St.
Wednesday-Saturday | 5:30pm to 12am
This three-story, upscale restaurant serving classic American cuisine delights with walls covered in prints of the city by some of the world's most notable photographers as well as its gorgeous full-floor rooftop dining area.
160 East 46th St.
Tuesday-Saturday | 5pm to 11pm
This tucked-away Indian restaurant might not seem trendy, but its unique, home-style take on the country's food has been featured in The New York Times and a Bon Appétit show.
246 East 51st St.
Monday-Sunday | 4pm to 10pm
Located inside St. Bartholomew's, the 100-year-old church on Park Avenue, this restaurant offers a fantastical dining experience amidst its massive garden and 30-foot vaulted ceilings. All the food is locally sourced to deliver a simple yet delectable menu of new American cuisine.
325 Park Ave.
Monday-Friday | 5pm to 8:30pm