Five Must-See Midtown Shopping Destinations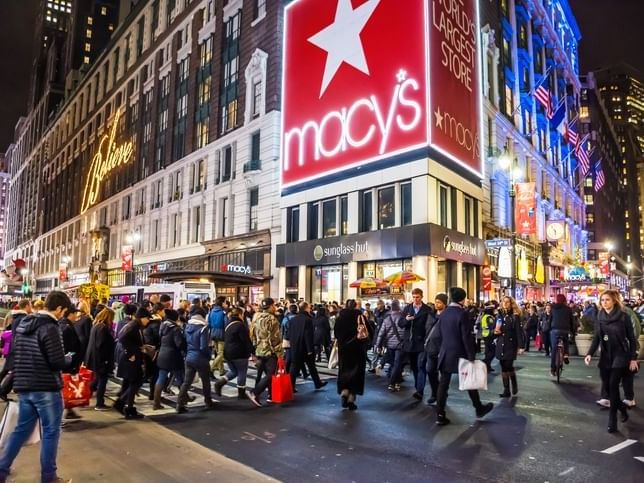 Midtown isn't only the heart of New York City; it's also the lifeblood of shopping. From the extravagant window displays on Fifth Avenue to the myriad massive flagships, Midtown is a shopper's paradise. As these are all just a short, fun walk from the Roger Smith Hotel, we hope that you come and experience these iconic stores and can find any item on your wish list.
Saks Fifth Avenue
If you're looking for a vast selection of shoes, there's an entire floor with its own zip code dedicated to them at the flagship Saks Fifth Avenue. Along with in-store boutiques and floors loaded with luxury apparel, the boundless footwear selection – which has its own 16,000 square-foot shop within a shop – carries prestigious brands like Louis Vuitton, Chanel, Versace and Christian Louboutin.
Macy's
If you're looking for an unparalleled retail spectacle, be sure to visit the original Macy's which is the largest department store in the entire United States. With ten floors and over a million square feet of retail space, it seems like you've stepped into a city of its own, with practically any item and brand you desire.
The Shops at Columbus Circle
Come for the amazing views and stay for the luxe shopping and fine dining. The Columbus Circle Shops tower over the eponymous circle and Central Park, and the glass building allows for impressive northward perspectives. There's a wide variety of high-end shops here, whether you're looking for clothing, jewelry or anything in between, including such celebrated names as J. Crew and Swarovski. Then top it off by choosing mouthwatering cuisine and refreshing cocktails from their restaurant and bar collection.
Bergdorf Goodman
There's only one Bergdorf Goodman in the world, so don't miss out on the globally renowned epitome of luxury while you're in NYC. The art deco Vanderbilt mansion is a fitting home for the store's ultraluxury couture and unparalleled service, while the shop also offers exceptional customer service, catering to some of the world's most discerning customers.
Tiffany & Co.
For nearly two centuries, this luxury jeweler's flagship store has been a global institution held in lofty regard for its elegance and style. Here you'll be enchanted by some of the most breathtaking gems, rings, bracelets and necklaces in the world, especially the marvelous 128.54 carat Tiffany Diamond.