The Best Vintage Clothing Stores in Manhattan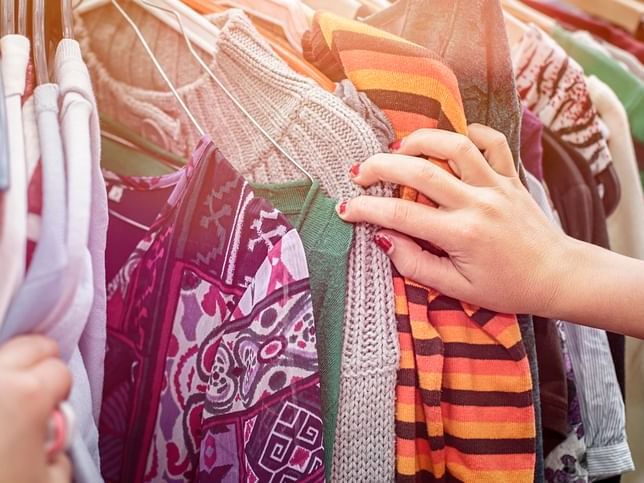 Vintage shopping on the Island is nothing short of an exhilarating treasure hunt. Our fashion mecca offers rare, unique and trendy vintage clothes that you won't find anywhere else. Here you can spend days searching aisles and finding everything from coveted retro brands to nostalgic sports and pop culture attire. To save you some time, we've narrowed down the best vintage vendors.
Metropolis Vintage
A regular go-to for celebrities like Kanye West and Kendall Jenner, this vintage store stays on top of the latest vintage trends, offering coveted attire from Ralph Lauren, Tommy Hilfiger and plenty more. What truly sets this 30-year-old establishment apart is its vintage band tees which are organized like a record shop by genre, artists and more. You likely won't find a cheap bargain here, but you'll certainly be the envy of every fashionista.
Neighborhood: East Village
Address: 803 Broadway
Website: metropolisvintageonline.com
Tokio7
If you want unique, heritage, high-end designer labels at a discount, look no further than Tokio7. You'll find a whole haberdashery of clothes from the likes of Comme des Garçons, Saint Laurent and Prada, along with designer watches, belts and shades amongst others.
Neighborhood: East Village
Address: 83 E 7th St.
Website: tokio7ny.com
Round Two Vintage
Here you'll find a gamut of archival apparel, ranging from Nike sweaters, New York sports teams T-shirts to movies and the occasion record. It's all organized and curated so that you don't have to spend hours searching for that special Grateful Dead shirt. You'll also encounter varieties of vintage goods, like old VHS tapes and Apple signs.
Neighborhood: Lower East Side
Address: 138 Ludlow St.
Website: vintagebyroundtwo.com
Hamlet's Vintage
What started as a flea market stand has evolved into a must-see in the trendy Greenwich Village area. What sets this store apart is their curated clothing – dating all the way back to the 1940s – all hand-selected by the owner, verified for authenticity and still in immaculate condition. Get a unique look for every era without needing a time machine.
Neighborhood: Greenwich Village
Address: 146 W 4th St.
Website: hamletsvintage.com
Mr. Throwback
Vintage sportswear from the 80s and 90s is very much in vogue and you won't find a greater selection, with everything from throwback NBA jerseys to Nike jackets to rep your favorite team in style. Be sure to check out their own apparel, with clever and eye-catching references to pop culture icons and moments, like a Seinfeld George Costanza baseball card T-shirt or a sweater depicting Kobe Bryant holding up his first draft Lakers jersey.
Neighborhood: East Village
Address: 437 E 9th St.
Website: mrthrowback.com
9th Street Vintage
This local go-to specializes in pre-1960s women's fashion, offering an exotic look whether you're looking for formal dresswear or casual tops. You can even book a personal appointment with one of their in-house team members to find the perfect personalized style.
Neighborhood: East Village
Address: 346 E 9th St.
Website: 9thstvintage.com