Vietnam Fashion Label Stitches at the Roger Smith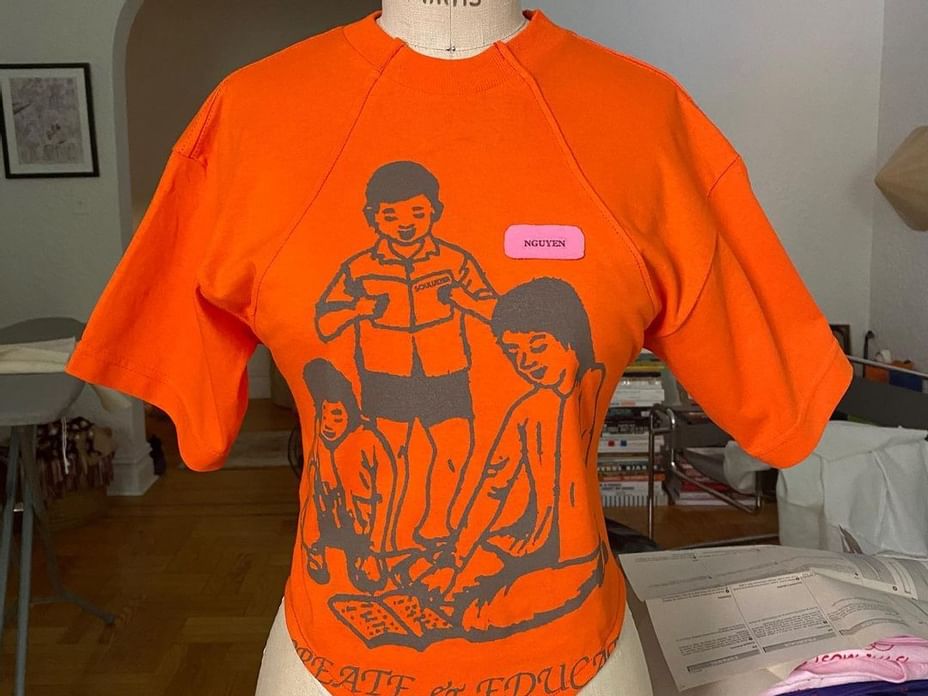 In 2014, Tan Nguyen had an epiphany while seeing his fellow Vietnamese friends on Facebook groups raving about high-end fashion from Europe and other fashion capitols. "Why don't we have our own thing, so we can talk about our own culture?"
Tan revolutionized this 'shift towards us' with inspiring, intrepid and ingenious designs that bring his homeland's heritage to fashion and the globe. For instance, 'The Burning Monk' newspaper headline, photo and article are displayed on a T-shirt alongside the words 'in memory of Thich Quang Duc' which celebrates the life of the Vietnamese icon who immolated himself to protest the persecution of Buddhists in 1963.
Their streetwear 'for the people' has since expanded worldwide. With NYC experiencing a spate of Asian Americans and Pacific Islander hate crimes, Tan and his life/business partner Hewie Nguyen (founder of label Nguyen Inc.) designed and raffled off a collaborative design beautifully evoking the need to create and educate, while also donating all the proceeds to WowProject which protects Chinatown's creative culture and fosters peace.
Every pop-up store they've done has a connection to the people. Most recently, in Orange County (with one of America's largest Vietnamese populations), Tan and Hewie designed a trendy Chu Minh Tofu shirt design with all the proceeds going to the owner's charity of choice. The simple and elegant streetwear designs, like ME, TAT CA (Moms, Everything), infuse Vietnamese culture with empowering messages cut and sewn into the fabric of society by chic fashioners including Hid'n.
Now the duo is excited to utilize a Roger Smith Hotel pop-up space to showcase their company in the heart of the fashion capitol of the world (which also has massive Vietnamese population) on July 16th to 18th. Right near Grand Central, thousands of tourists and passersby will now experience the international boutique, with live DJs, onsite printing off a custom design and a vibrant cultural infusion. This pop-up will be a space for everyone to connect, exchange information and support each other.
As we often say and as the tagline reads above the Hotel's entranceway, Roger Smith is an idea. At our Pop-Up Shops, your idea can come to life with prime frontage to radiate Midtown with electric energy and build buzz for your brand. Our program perpetually showcases international brands and boutiques, so contact us today.