What It Means to be a Drummer: An Interview with Amaury Acosta, Artist-in-Residence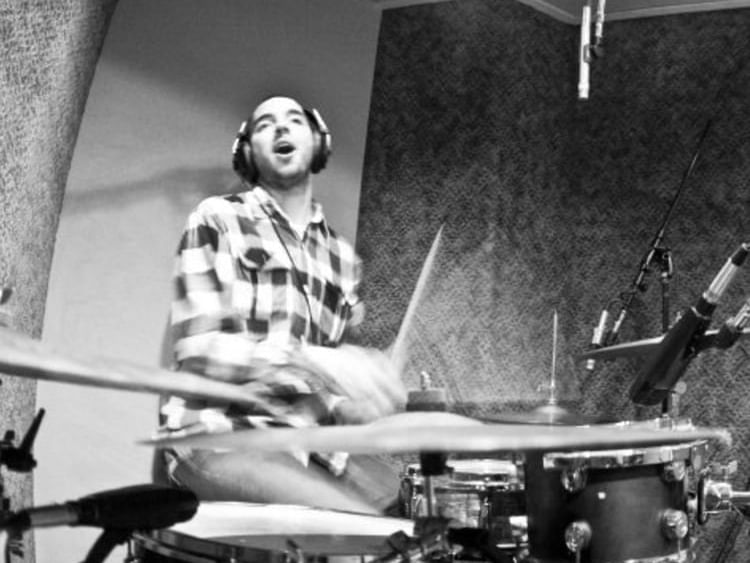 Many musicians can say they started at a young age, but you'd be hard-pressed to find another like Amaury Acosta who grew up in an artists' housing in Hell's Kitchen with Alicia Keys as a babysitter.
Being immersed in music from a young age was foundational for the Cuban American drummer, producer and composer, starting off in a band for a decade and now performing as the solo artist, King Klave. Now, his solo work has been acclaimed in The New York Times, he has toured around the globe at renowned festivals and he's releasing his self-titled album that's nine years in the making.
What inspired you to become a musician?
I grew up in Hell's Kitchen in an artists' building, so you had to be some sort of creative to live there. My neighbors were Alicia Keys (who babysat me), Duke Ellington, Dexter Gordon, Terrance Howard, Samuel Jackson and the list goes on. Seeing that level of excellence at such a young age was instrumental to my development, and I knew I wanted to be an artist at that point.
My father is an artist, a filmmaker and a playwright. I grew up in a vibrant, culturally diverse household where art was the biggest emphasis of my education as a child. Since my dad was a producer, I grew up as a greenroom kid. I was running around Carnegie Hall and Lincoln Center at the age of eight. The normal things that kids did in their teams, I didn't partake in. I didn't go to the mall and hang out or to prom; I was constantly practicing. I was already gigging at 16. So, my childhood was consumed in music.
Then one day I saw a famous drummer named Horacio 'El Negro' Hernandez, one of the most famous drummers in Cuba. I was blown away by how masterful, coordinated and smooth he was. Then he gave me his drumsticks, and that ignited a flame. I had an epiphany: I'm going to be a drummer.
How did you get your own start as a musician?
I met the famed percussionist Ray Mantilla, who passed away last year, when I was in my teens. He was excited about how excited I was about his music, so he would hire me as a roadie. I would carry his drums, bags, whatever. But then he realized that I could play, so he hired me to be the drummer.
By the time I got to college, I was skilled enough to play gigs anywhere. And all that means is if somebody needs a drummer, they call you. Do a good job and we'll call you back. Show up on time and be professional. But I want to be an artist, not a musician.
What's the difference between a musician and an artist?
You can be a musician and not be an artist. Musicians are mercenaries; they have the skill set and they get paid for providing a service. You can hire a trombonist because you need a trombone. And that guy is going to show up and play wherever you need them to play.
When you're an artist, you don't take the wedding gig. You're making your art sustainable. And I always knew that that's the path I wanted. It's double the risk but double the reward. The risk is, since you decided to make a transition to an artist, your work will now no longer come from providing services. I used to be that guy who showed up wherever you need me to show up. I was miserable. It's not why I went to school. It's not why I spent 20 years practicing.
What do you think separates you from the rest of the musicians as a successful artist?
Because I believe in what I'm doing. I believe that I have something to say. And I believe that what I have to say is important enough that it will sustain itself. I've decided to take a leap of faith and I am determined to redefine what it means to be a drummer. I wake up and I think about somebody that doesn't know me. I want them to feel recharged, grateful, happy and inspired by my art.
Your music is so unique. How would you describe your genre and your message?
As a Cuban American, I didn't like how Cuban culture is perceived by mainstream American media. I feel like we have dumbed it down and kind of made it appropriated. I hate it. Because in all actuality, Cuban people are very smart and educated. They do everything with pride, elegance and commitment.
Afro-Cuban rhythms are hundreds of years old. And they are very traditional, already implying a certain feeling. And I've been deconstructing them, morphing them into something else. My philosophy is that the new music is jazz-funk. Hip hop's cousin in Africa is the godfather – the grandfather – and I'm pulling from all of these folkloric places. I'm trying to open dialogue between these rhythms that are related but then all speak the same language. That's my quest.
Tell me about your new "King Klave" album
My new album has been nine years in the making. Perfection doesn't exist. But what we think is good is our barometer. I have a barometer of excellence, where if anything is falling short of that sucks. And I don't do I don't make whack music. I finally finished it during peak-pandemic as an artist-in-residence at the Roger Smith.
When you listen to my new album, you're going to hear all kinds of instruments and influences from hip hop to electronic music. There are all kinds of players – around 18 musicians on this album. But I do not invite musicians in a conventional way, where I just tell them to play.
What's it like living in the Roger Smith?
The Roger Smith is a dream come true. To have a space to create freely, without any type of reservation, has changed the way I make art. Normally, when you're a musician, all you have are obstacles. When you eliminate that and work in such a creative environment, it brings out the best in everyone. Spaces like this just don't exist in New York City.
During the pandemic, most musicians hated not being able to perform, but I loved it! It provided a haven where I could focus on perfecting my album. I'd work 12 to 14 hours straight just to get it right. Now I listen and I say to myself, "These songs are my babies."
Our tagline is that 'Roger Smith is an idea'. What does that mean to you?
Roger Smith can be whatever idea you need it to be. It can be a place of solitude and reflection, a place of business or fun to others. But to me, it's a place where art is received and encouraged, and where you're surrounded by vibrant activity. Spaces like this form greatness. I can't wait to perform at The Penthouse in October. It'll be a special performance with three DJs from Havana mixed with my drumming.